The following are ways to use your estate in offensive way. As you all know how to attack when coming out, this is to attack from the estate. Everything can be used in different ways, this is just to get your mind working. Feel free to go into kingmaker or a game with a fellow [|WoV|] and practice this. I recommend you use the leapfrogging stockpiles only when needed as this is a great way to stop a major attack on the estate!


Here you can see I have used the Kitchen and Armory. They act as defense from oncoming trebs and other range units near by. You can use cats, but this is way less expensive and if tunneled you only lose very little. The behives stop the tunnels. Of course they can be destroyed very easily, but its better than nothing, right?


If you are wondering what this is for, as you can see the trebs are to far to do major damage, but they arn't. When people come out with armies and put tunnels between the armies the trebs can still break the tunnel even though catapaults cannot even if there is a manlet 1 foot away. If you take 10 of these as I have here and put them under "ctrl + 1" then you can just press 1 and hit quick select all 10 trebs and hit the tunnel they just placed. This is more effective. You can also take the monestary on the other side of your estate to stop 2 tunnels. This is the 2nd best method to stop the mad attack! Also of course use fire and your troops and what ever you do, watch out for those tunnels!!!




Here I have used the monestary another way. You can use the kitchen and armory here to but these are just different methods of attack. What I am doing here is most commonly done in 3 v 3 when the middle estate is being used by an enemy. You can also do this from the middle estate to a said estate, bottom, and even top. The idea is to treb your oppoents flour set up, hit carter posts, hit troops, and break the defense with this set up. It is very effective. Why the monestary? It acts as a barrier to stop fire and range units alike. Also station a few knights at the entrance to stop other knights. If they send many knights forget the monestary. Delete it and send fire to get them of horses then send in your knights with manlets for range protection, or use balistas/catapaults and finish the noob off!




This is the best way to stop a major scaled attack! I have used 2 stockpiles during the whole game, but in the last 5 minutes of PT I have leapfrogged one of them all the way up here. Then I simply place the other one there. If you are in a 1 v 1 and arn't making flour on your front estate do this with 3 stockpiles. Stockpiles cannot be destroyed. You can, however, tunnel inside stockpiles. So don't think your troops are safe in there! The major part here is the stockpiles are placed 4 units away form the border. This stops the opponent from putting tunnels there and they must resort to the side. On the side however you can easily burn. Have your firecarts go up to the stockpiles and then send fire around the stockpile and you will damnge their troops 80% of the time approximately. This is pretty good so you should only use it when you need to. Also in 1 v 1 this is a reason you should get the estate infront of you when buying 3 estates. Because the oppoent can do this to you if he only gets the one beside him and you will be hurting because you can't come out meanwhile he can take your side estate ect... So just play around with this like I did and you will find many ways to manipulate it into winning the battle!




To do this, of course you have to modify your estate flour production if you are leapfrogging it. Here is what it will now look like approximately. This will still provide more than enough flour, but you'll be an average of 100 down from what my tests show me, but the stockpiles you put up front are well worth it!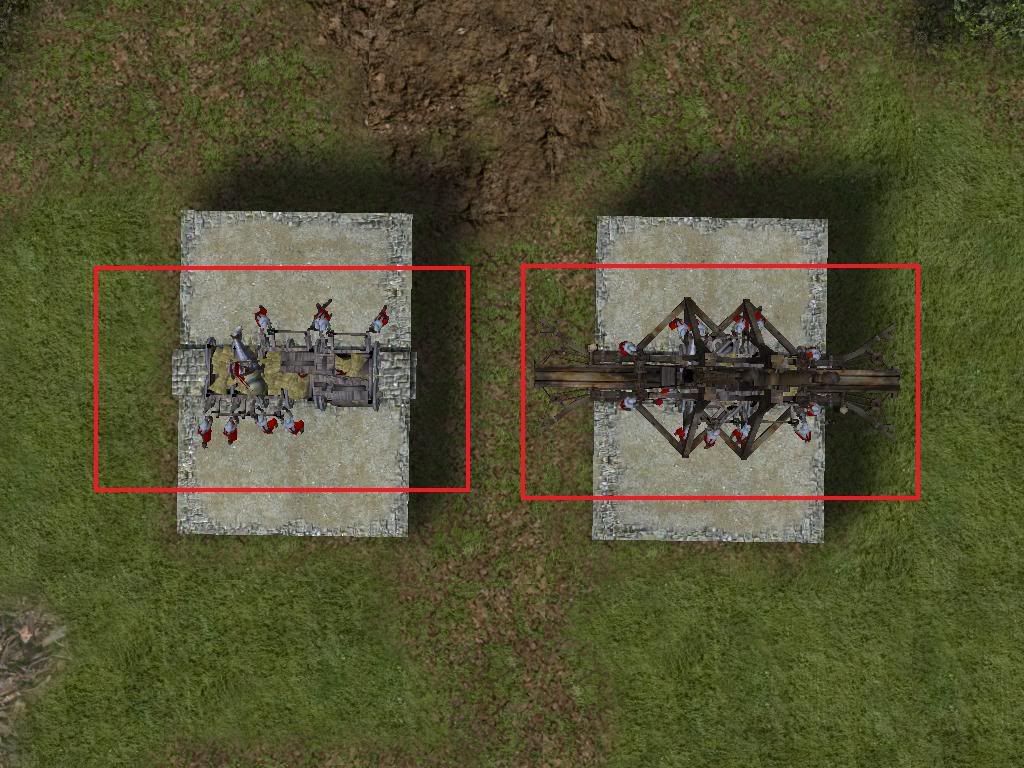 [LIST]
[*]Last here is what you get when doing this. This is a trick I have found to work. As long as you put no troops in your opponent will not be aware of whats in here as he cannot zoom in and see.
[*](LEFT) I have firecarts with manlets in, if they bring there army close burn the **** out of it! This works very well, but remember it can still be tunneled so theres no point is using it if your opponent sees you stuffing it.
[*](RIGHT) Here I have put trebs in extremely close range of there castle. Your objective with these is to hit there STONE walls. If you do this the engineers will now try to go fix it. Every engineer that goes is now no loner working in tunnels. Keep this up and if you can hit a good amout of the wall then those engineers will continue to do this. There is no way to stop this if it happens. You may find selling your stone to be a smart move, but the game still is programed to see them go there and WAIT for more stone, so this is very good. That is why we all make wood walls in our defense to minimize this. It could really hurt your tunneling!